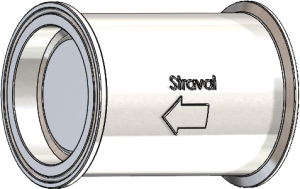 CKV-TC Series Inline Sanitary Tri-Clamp Check Valves.
https://straval.com/products/check-valves/ckv-tc/
In line 180 degree Sanitary Tri- Clamp process connections, for low flow gas or liquid applications! The lower Flow Cv rating may require using a larger pipe sized valve for most applications.
The Series CKV-TC was designed with a soft seat and this configuration will offer ANSI CLASS VI shut off.  This CKV-TC offers an economical Sanitary Tri-Clamp solution for check applications in all SS construction from ½"-3" pipe size!
Pricing is readily available on our website www.Straval.com
Standard wetted materials are 303SS and 316SS in contact with the process fluid, and a variety of seal option allow you to install the CKV-TC in the most demanding applications. The CKV-TC can be installed in any orientation: vertical, horizontal and is offered in an inline configuration as shown.
Please consult factory for assistance with technical concerns or proper size selection.